Luxury Rooms:
In 2008 we picked 4 rooms to do a major interior renovations project. We couldn't decide which parts to
change and which parts to keep so we changed everything. We wanted to move some walls so we tore everything out right down to the studs and built from scratch. We decided to focus on luxury.
So everything in these rooms is completely new: the flooring, the walls, the tub surrounds, the vanities, the beds, the crown moulding, the custom made spreads and curtains, even all the furniture!

These new rooms were so well received that we decided to renovate more rooms in this fashion....four in 2009 and three in 2010 two in 2012, 4 in 2013 and finally
the last 4 rooms in 2014.
Doing these renovations has been a lot of work but I think you will be pleased with the results.


I managed to take a few pictures of the renovated rooms but my camera and/or my skills do not do them justice.


This picture shows the new furniture, the Sony 32" lcd tv, and the custom This picture shows the end unit #22 where we added a patio door leading
built closet area with the fridge and microwave (no bending down). to a private deck with a water view.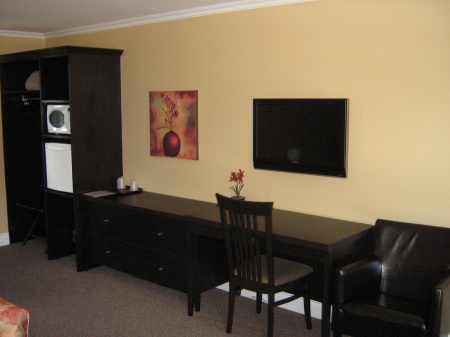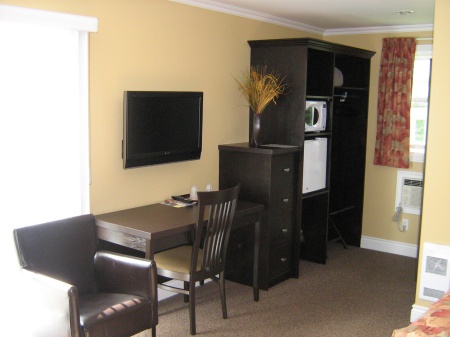 This picture shows the 2 new Queen beds (somehow my camera makes Here we have the bathroom....full vanities with granite counter tops. If
them look small) along with the swing arm reading lamps. you look hard you can just see the new one-piece tub-shower surround.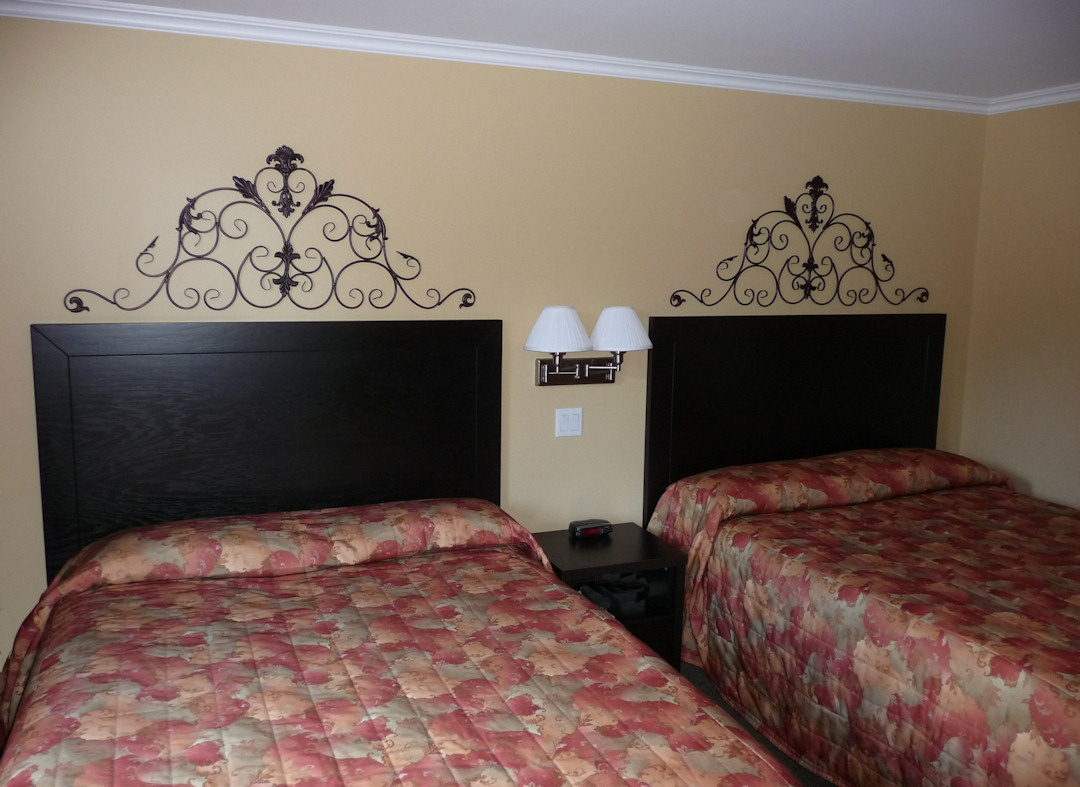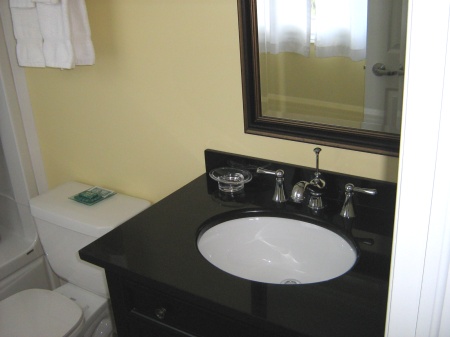 Front Rooms vs Garden Rooms:
There are 2 sections to the motel....the front section facing the road and the separate rear building facing the gardens. The front facing rooms are closer to the road
but have private decks at the back facing the garden area.

The rooms with 2 queen beds in the back garden area are in a quieter location but do not have a private deck.

Some people prefer having the private deck and some prefer being in the more secluded location away from the road.

You can see a deck pictured below. These decks now have 4 chairs each instead of the 2 pictured below.

























































Rooms with one queen bed:
We only have 4 rooms with 1 queen bed and these rooms have been renovated for 2014. The rooms with one queen bed are smaller but are still very
nice rooms. The bathrooms are smaller and have acrylic showers with built in seats instead of Tub showers which are present in all the rooms with 2 queen beds.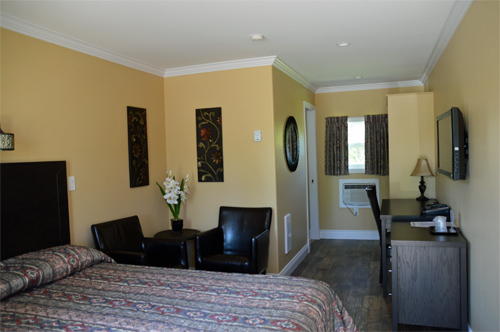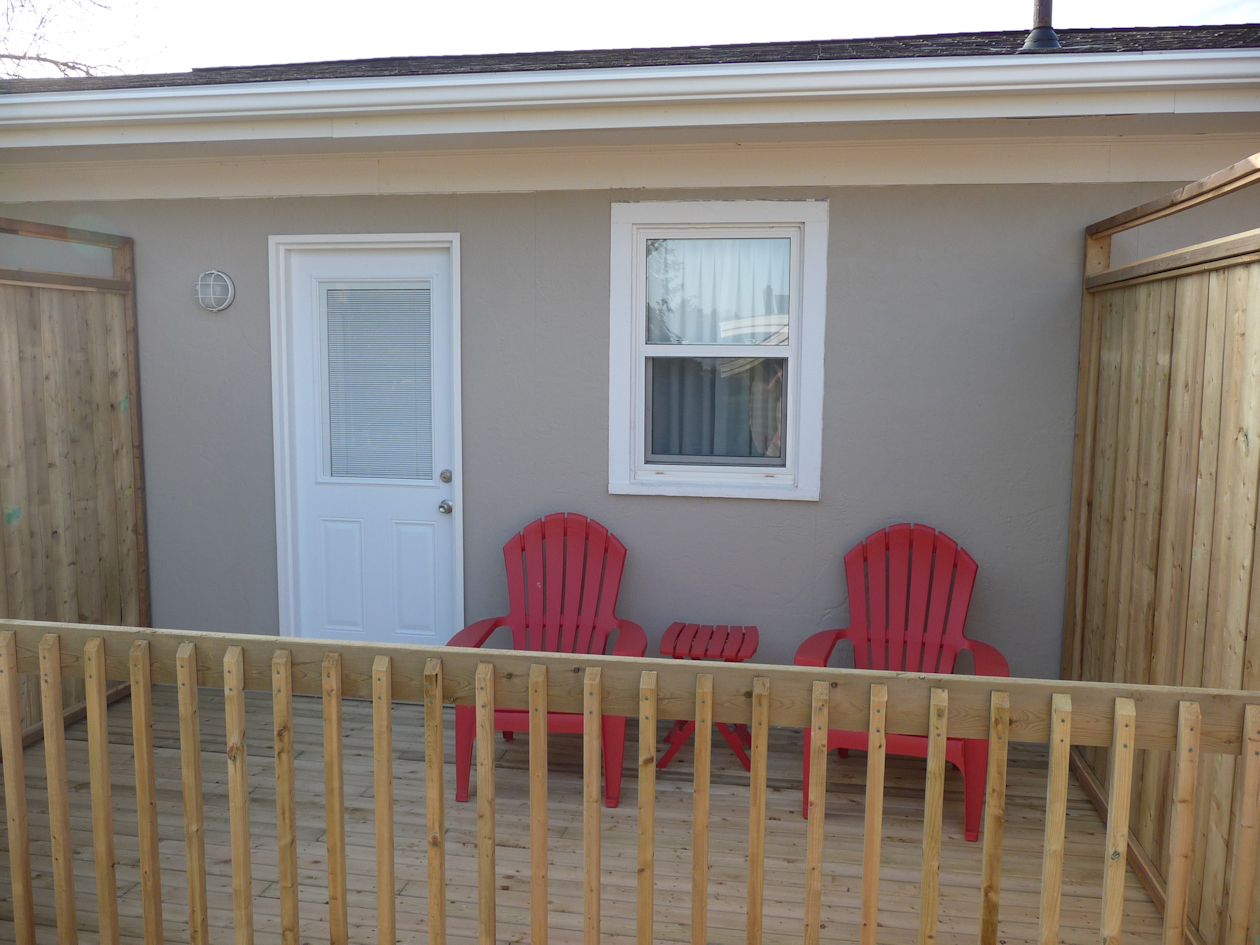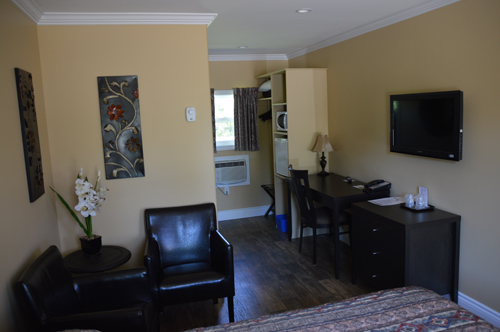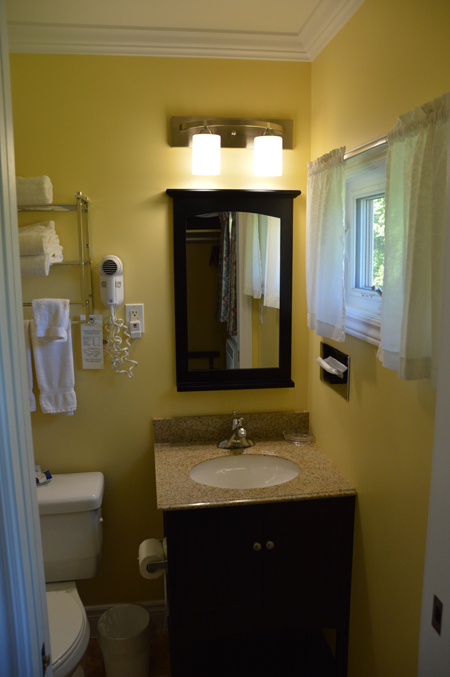 All rooms now have vanities with granite countertops.