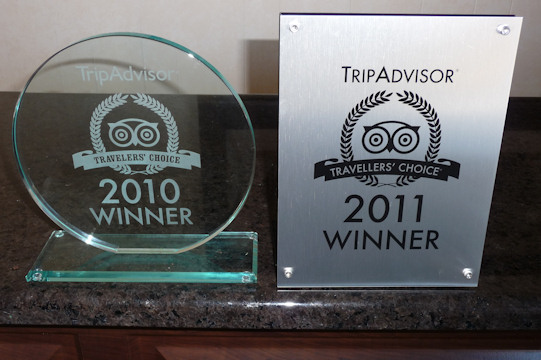 Great resources in finding a terrific hotel room.
Many people find our motel by using Lonely Planet travel guides. The organization Lonely Planet produces great guide books for travel. They actually go to popular destinations and search out things to see and do and good economical places to stay. They don't usually announce who they are or what they are doing so they won't get any special treatment. We weren't even aware we were listed in the guide until someone pointed it out when we first appeared in the previous edition.
We are The only hotel/motel recommended in Summerside in both the Lonely Planet Canada Guide and the newly released Lonely Planet Guide to Nova Scotia, New Brunswick and Prince Edward Island. These guides can be found in most book stores and online at places such as Amazon.ca and Chapters.
Another resource for travelers is an online site called Tripadvisor. Here you can read unbiased reviews from people who have stayed with us. All you need to do is submit a destination and then click on hotels to see other people's experiences with hotels in a given area. You can discover that you may get greater satisfaction from a 2 star hotel at $79 than at a 4 star hotel at $150.

Keep in mind that star rankings are just there to tell you what the hotel has to offer... not the quality. So a hotel may be given 4 stars for having an onsite restaurant, an onsite gym, a heated pool etc. but be lacking in the fundamentals that make for a good hotel stay. Another hotel may only be given 2 stars since it has no onsite pool or restaurant or gym but it excels in the basics of offering a clean, comfortable well appointed room at a terrific rate. This is where the internet is helping small motels like ours get our message out there.

Because so many people have been kind enough to write good things about us on Tripadvisor, we have been awarded Traveler's Choice Awards in 2010, 2011 2012 and 2013.

Tripadvisor is very competitive so if you have stayed with us, please consider helping us by writing a review. Just click here or if that doesn't work properly, click here and type Sunny Isle Motel.