Clark's Sunny Isle Motel

Summerside, Prince Edward Island

1-877-682-6824






Tripadvisor ranked #1 Best Bargain Hotel in Canada for a third consecutive year!



Winner of Tripadvisor Traveler's Choice awards:
2010, 2011, 2012, 2013, 2014, 2015, 2016, 2017,2018 and now 2019





All rooms are now fully renovated. As of May, 2019 all rooms are carpet free! Also, all rooms now have 40-50" LED TV's with a nice selection of high definition channels.

Please note, we are now closed for the winter months and will reopen near the end of April. Also, we do not do long term or winter rentals. We are taking reservations for the 2020 season.




Spring 2020
Vacation is a time when you want to leave all your worries behind and enjoy yourself. Unfortunately, finding a place to stay that offers a reasonable price with clean, modern facilities, can be a worry that follows you on your vacation. When you stay at Clark's Sunny Isle Motel, you can finally relax. Not only have you found a spot that meets these needs, you have also found a spot that offers much more. When you're not touring around enjoying the sights and activities of P.E.I., you can relax and stroll the lush motel grounds. The plants, shrubs and trees that fill out the 20 acres of property create an atmosphere that truly has to be seen to be appreciated. Take a break from the constant travel to stroll down our trail to the water and sit for a relaxing afternoon.
Our family has been providing clean economical accommodations since 1963. A large part of our business is repeat customers who often come several times a year. We are constantly striving to provide our guests with all we can while still keeping our pricing reasonable.
Click the following link to find out more about us.
Our Grounds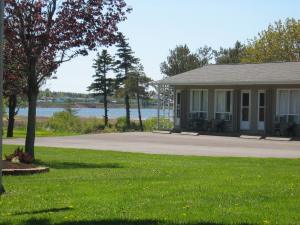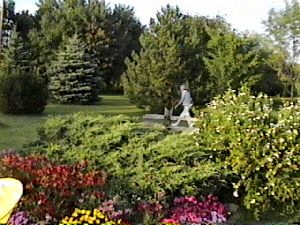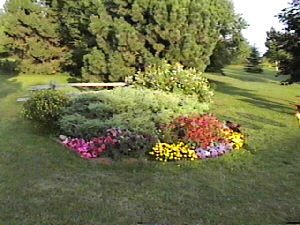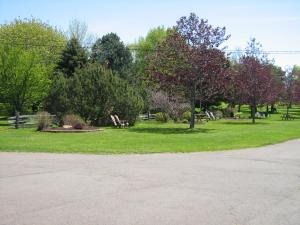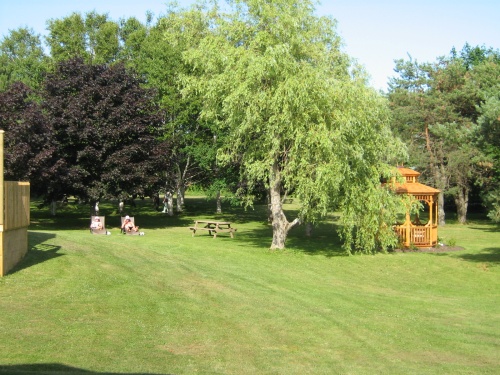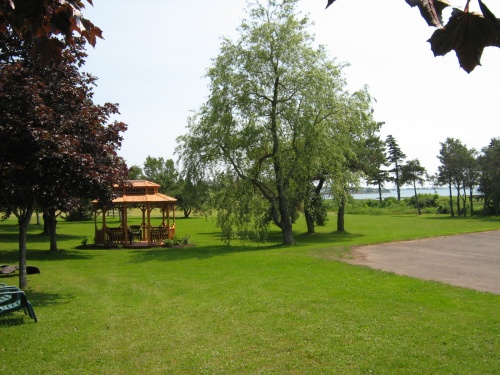 Walking Trail
The walking trail to our waterfront is extremely popular. It's a quiet and pleasant walk through the trees down to the water. It is around 1km long and takes about 15 minutes each way at a moderate pace. It's a great way to relax after a full day of venturing around PEI. It is our own totally private trail and you won't find it's like anywhere else! Once you reach the water you can then stroll along the beach and if you do encounter another person, it will likely be another of our guests. Please note, Insects, seaweed and the occasional shy fox may be present.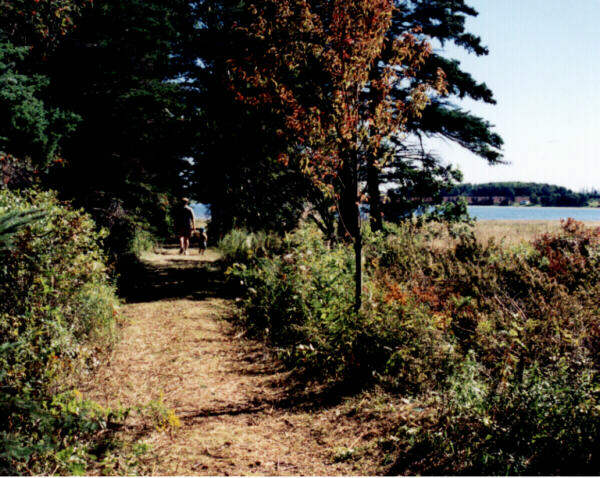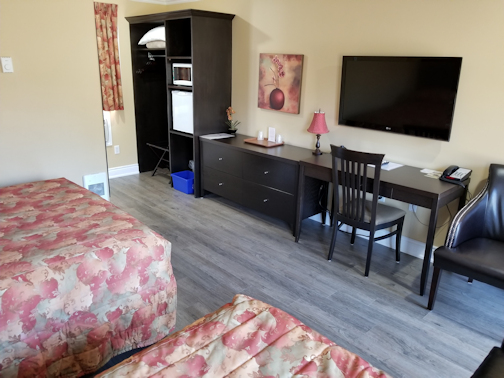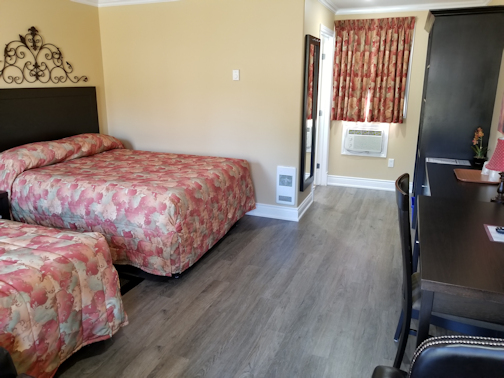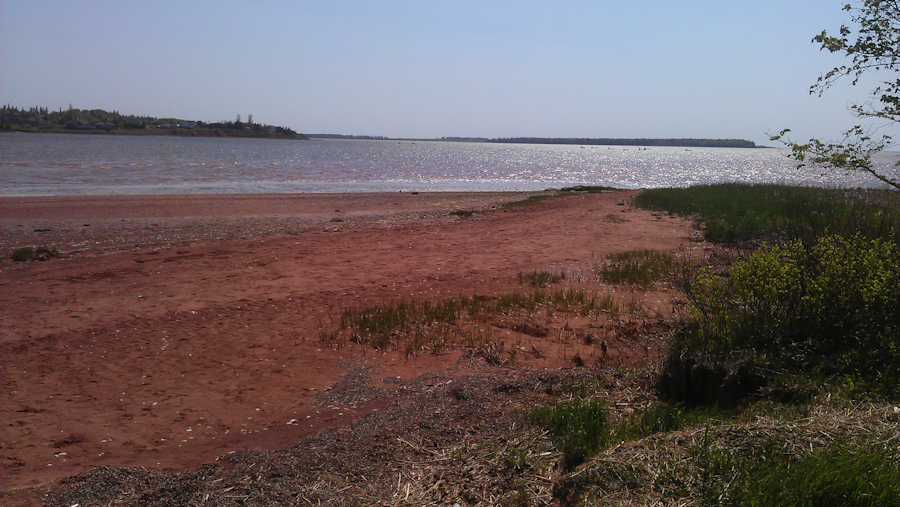 Here are some additional pictures of the motel and grounds.
We offer all the features of the larger hotels at a fraction of the cost. All units feature cross-ventilation, individual thermostatically-controlled heat, air conditioning, clock radios, mini-fridges, hair dryers, wireless internet, phones with free local calls and new 40-5 0" High Definition TVs with extended cable inc. sports, news, music and some High Definition channels. By your bedside you will find an alarm clock (with USB charging ports) as well as a book on the history of Summerside so you can get familiar with your small host city!

Free coffee and tea are available every morning in our lounge. (In room coffee pots available on request). For the off season we offer a free continental breakfast for everyone who stays with us during May and October. Daily maid service is included for those staying more than one night. We also have a safe and convenient storage area for bicycles so people can leave them safely behind when they are not needed.


These photos show some new renovations done for 2018 with new triple sheeting beds with duvets. We have tried this in a couple of rooms to see how they work out.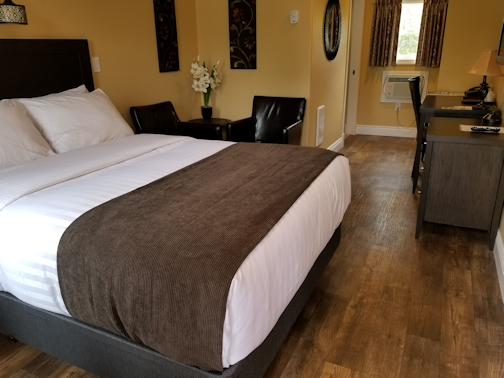 Here are some room pictures.
Golf and shopping can be found nearby and the Confederation walking Trail is only very close and easy to access. The ever popular Cavendish Beach area is a short 25-30 minutes drive. The Confederation Bridge is 20 minutes away and Charlottetown is 45 minutes away. The North Cape Coastal drive starts in Summerside and is a great idea for a daytrip to see this lovely part of PEI (Try to take in the Potato museum in Oleary). The whole drive can be completed in one leisurely day trip from our motel.

If you like to walk you can travel on our private walking trail to the water or the public sidewalk in front of the motel can take you to restaurants and the College of piping all less than 1km away.
For those who travel with a laptop, all rooms have internet access. You can connect via our wireless connection (compatible with wireless G and N) and some rooms also have a direct wired connection.

We also have a computer in our lounge which has high speed access. This is extremely popular with our guests who can send or receive email or just surf the net, all at no additional charge . This area also serves as a meeting area where people have their complimentary morning coffee or tea and chat with other guests. During the off season, it's where the continental breakfast is served.
I like to call it our mini Internet Cafe (pictured below).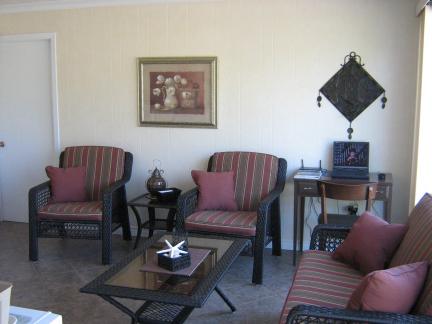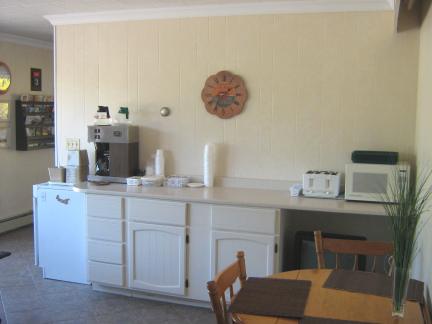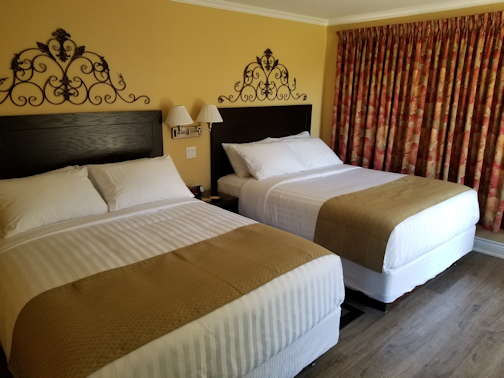 Read about recent upgrades as well as exciting renovation projects such as our new solar heating panels !




Recognition and Awards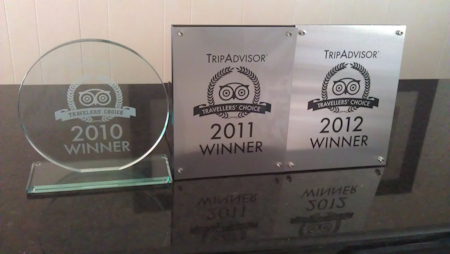 For a tenth year in a row (2010, 2011, 2012, 2013, 2014, 2015, 2016, 2017, 2018 and now 2019) we have been awarded Tripadvisor Traveler's Choice Awards in the best bargain (#1) category for Canada!


For the last 5 years on Tripadvisor, we have been rated the top hotel on PEI.


The only hotel/motel in Summerside recommended by Lonely Planet Travel Guides.
Recommended by Fodor's Travel guide .

Top rated on Tripadvisor for hotels/motels in Summerside.
Recipient of the 2007 Communities in Bloom Award.
Here are some kind words we have received.
More information on Lonely planet and Tripadvisor
and why these are such valuable tools for vacation planning.

Choosing a room

Selecting what type of room you want can be a difficult decision. We are proud of all our rooms but certain features described below may influence your choice.

We basically have 3 types of rooms: A room with 1 queen bed; A room with 2 queen beds in the front of the motel; A room with 2 queen beds in the back of the motel.
All rooms have been fully renovated and they all have a mini-fridge, microwave and free wifi(as described above). The rooms with 2 queen beds have one firm mattress and one softer mattress(all high end pocket coil). The rooms with 1 queen bed have a medium firmness mattress (my personal favorite...the Beautirest Black).

The rooms with 2 queens at the front of the motel are closer to traffic but some people prefer them because they have solid surface flooring and a private south facing deck with 4 chairs.

The rooms with 2 queen beds at the back are popular with some people since they are farther from the road and face the gardens. These rooms have no privated deck and carpet floors.(Room #22 in back does have a smaller private deck with 2 chairs).

The rooms with 1 queen bed are around back (except #7) but aren't as far back as the rooms with 2 queens. They have a shower only and solid surface floors.

2020 Rates
We have continued the tradition of offering great rooms at great rates. Our rates are the best in Summerside. Unlike other accommodations that have focused on adding to the room rates....we have been focused on adding to the rooms.


Off Season Spring/Fall Special Rates :

Renovated room with 1 Queen size bed starting at $60

Renovated room with 2 queen beds starting at 69 ($5 addit. person).



Mastercard, Visa, American Express and Debit cards are accepted.



Regular Season Summer Rates:

Renovated room with 1 Queen size bed $80 and up.

Renovated room with 2 queen beds (2 people): $92 and up. ($5 addit. person)



Clark's Sunny Isle Motel

720 Water Street East,

Summerside, PEI C1N 4J1

Phone: (902) 436-5665

Toll free: 1-877-682-6824 (reservations only)




Please note, we prefer phone calls (1-877-682-6824) for reservations as it is faster and more efficient than emails. If calling is not an option, feel free to email, Some people have mentioned having trouble with the toll free number. If you do, please let us know. (myles@eastlink.ca).

Reservations are not complete until you receive an email confirmation or confirmation number. If you have not received one, please contact us to make sure the reservation has been correctly created. We do not charge you at the time of the reservation and you can pay with a different method on your arrival.


Our office is open from 8:00AM to 10:00PM Atlantic time for taking reservations. That means 7:00AM to 9:00PM Eastern time .





Location

We are conveniently located in Summerside on Water St (Rte. 11) which is the main street through Summerside and connects to Rte. 1A. Just take the first exit to Summerside when traveling from Borden and the Confederation Bridge. You will find us on the left/south side of Water Street as you make your way into town. This side of the street is facing Bedeque Bay and offers a view of the water.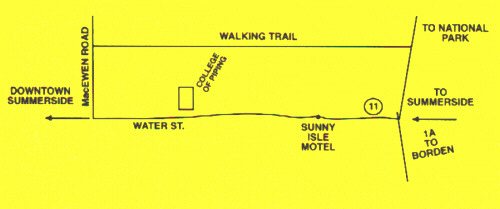 You can find some more information on Summerside here.
For more information about P.E.I. check out the following link.
The motel is open from late April to November.
We look forward to seeing you in 2016!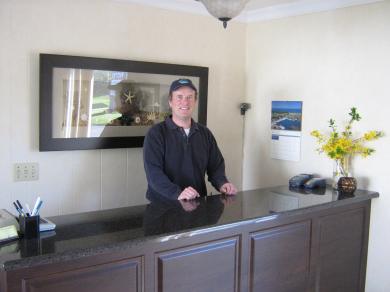 Myles Clark, Owner/Manager
We started our webpage in 1997 and we continue to modify it. However, we are not professional web designers so please excuse any errors or problems you might notice. We could invest in a professional webpage however, we feel this page gets the information across and when we save money you save money.Thank you for visiting our website.